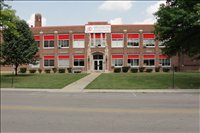 CHAMBERLAIN MIDDLE SCHOOL
A

NNOUNCEMENTS
January 23, 2018
NO DIGITS-LAB ON FRIDAY'S
STEM CLUB Stem Club is Tuesday, Thursday, and Friday for this week.
MUSE MACHINE- IN SCHOOL PERFORMANCE THIS FRIDAY- JANUARY 26TH
" OMG It's Opera --Members get in free – non- members the cost is $4.00 , the show will be at 9:45 a.m.
SPEECH CONTEST
Any students in grades 3-12 interested in participating in the Carlisle For Youth annual speech contest should pick up applications and rules in the office. The date for the competition is Sunday, March 4th at Grigsby Intermediate. The top 3 speakers in each age group will be awarded medals and gift cards. Hope you will consider participating.
A single smile can do the world good !