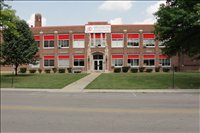 CHAMBERLAIN MIDDLE SCHOOL
A

NNOUNCEMENTS
4-25-18
OPEN ENROLLMENT
Carlisle Schools will be accepting open enrollment applications for students from area school districts for the 2018-2019 school year, from May 1st- through May 31st, 2018.
TRACK MEET TODAY- Madison Junior High Relays - Students return to school by 3:40
YEARBOOKS---
Extra's available in Sheila's office
Soft back $15.00 , if writing a check, please write to Lifetouch.
MIDDLE SCHOOL MASH-
Friday- April 27th- 6:00-10:00 p.m. High School- the cost is $10.00 at the door.
MIDDLE SCHOOL TRACK MEETS
4/25/18 MADISON JH RELAYS 4:30 P.M.
5/5/18 SWBL CHAMPIONSHIP TBA
***IMPORTANT DATES COMING UP***
May 8th Choir Concert 7:00 p.m.
May 14th Washington D. C. Parent Meeting 6:00 p.m.
May 15th CMS Band Concert
May 25th National Junior Honor Society 9:30 a.m.
May 28th No School- Memorial Day
May 30th C.M.S. Awards 9:00 a.m.
June 1st 8th Grade Picnic
June 1st— Last Day for Students- Have a Great Summer !
June 4-22nd-- Summer School
Dreams are possibilities wrapped in hope. Open one !