CMS Announcements
5-22-19
DIGITS CANCELLED THIS WEEK
CARLISLE SCHOOLS WILL BE ACCEPTING OPEN ENROLLMENT APPLICATIONS FOR STUDENTS FROM AREA SCHOOL DISTRICTS FOR THE 2019-2020 SCHOOL YEAR FROM MAY 1ST THROUGH MAY 31,2019. APPLICATIONS AND POLICIES ARE AVAILABLE IN THE GUIDANCE OFFICE.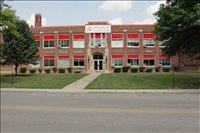 KICK FOR A CAUSE--Any 1st-7th grader invited for a FREE soccer clinic benefiting Ronald McDonald House- Thursday- May 23rd- 5:00-7:00 p.m. behind Grigsby Intermediate- "Say Soccer Fields"

MIDDLE SCHOOL STUDENT COUNCIL: Current 6th and 7th graders- Student Council Applications are available in Sheila's office. Applications will be not be accepted after May 28th.

2019 WASHINGTON D.C. TRIP

First Payment is due Tuesday May 28th - $200

Online classicstudenttours.com - Click

Make Payment

Button

Checks made out to Classic Student Tours

Trip Dates are Nov 20-23-2019 (Wed to Sat)
IMPORTANT DATES:

National Junior Honor Society- May 23rd
MUSE In- School Performance- May 24th
NO SCHOOL- MEMORIAL DAY- MAY 27th
NO- Early Release- May 29th
8th grade picnic- May 31st
LAST DAY OF SCHOOL- MAY 31ST---Have a great /safe summer .
"Go confidently in the direction of your dreams. Live the life you have imagined."
Henry David Thoreau