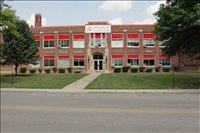 The Middle School Drama Club is presenting High School Musical Jr. this Saturday at 7:00 pm and Sunday at 2:00pm. Tickets are $5 for students and $7 for adults. Come for a great show and to support your classmates!"
Any students in grades 3-12 interested in participating in the Carlisle For Youth annual speech contest should pick up applications and rules in the office. The date for the competition is Sunday, March 1st at Grigsby Intermediate School. The top speakers in each age group will be awarded medals and gift cards. Hope you will consider participating!
"Go confidently in the direction of your dreams. Live the life you have imagined."
Henry David Thoreau