MIAMI VALLEY CAREER TECHNOLOGY CENTER
PLEASE CHECK THE CHS MORNING ANNOUNCEMENTS tab for daily announcements and updates for important information.
Also stay up to date by going to Twitter page @Carlisle_HS.

MVCTC web site: http://www.mvctc.com/
Information for parents: http://www.mvctc.com/parents
Information for current students: http://www.mvctc.com/current-students
Information for future students: http://www.mvctc.com/future-students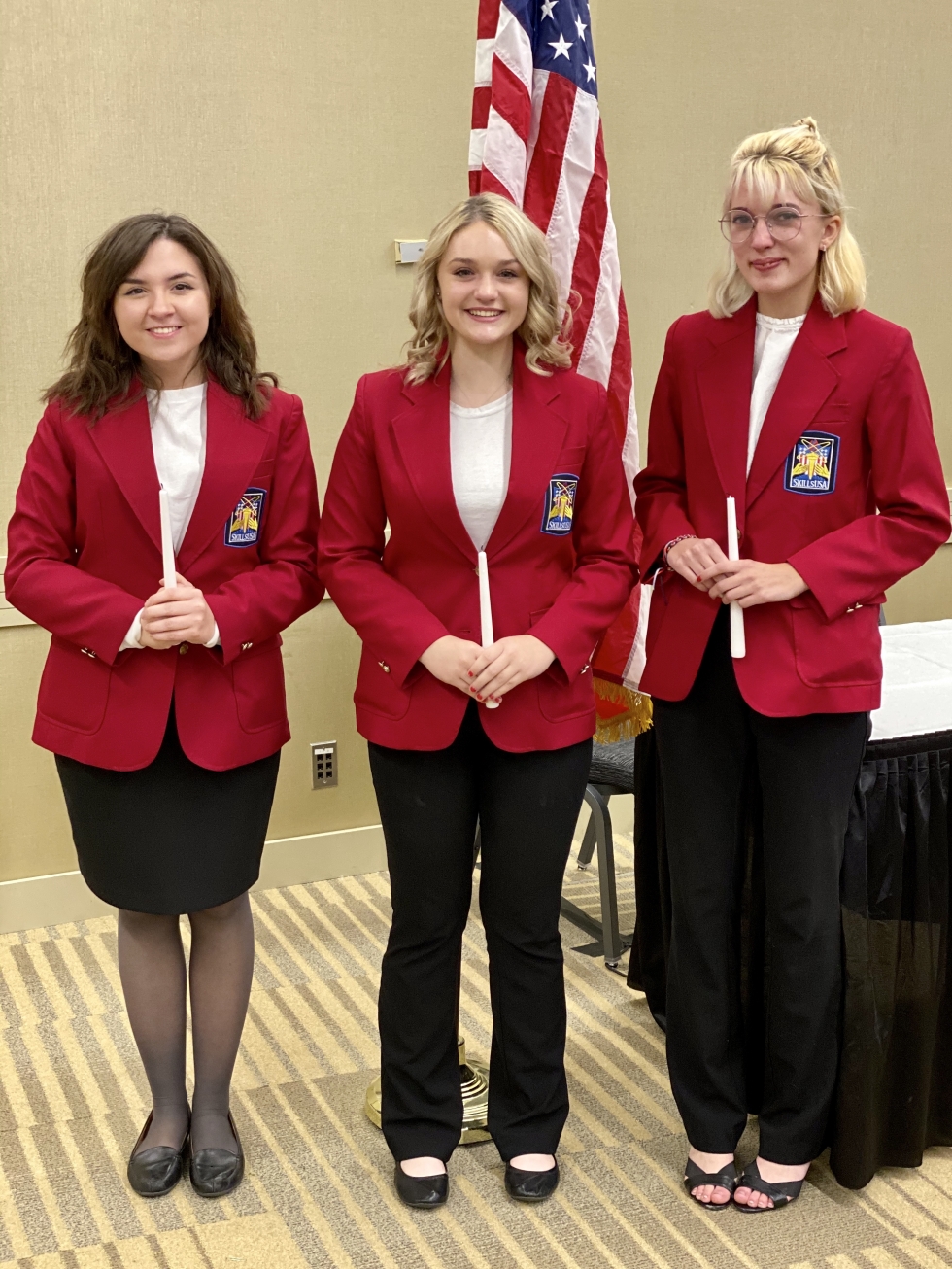 SkillsUSA Southwest Regional Officers
Carlisle's Own Calista Grimes Named One of Three SkillsUSA Southwest Regional Officers

MVCTC SkillsUSA Members Ready to Lead in 2020
Englewood, Ohio – Miami Valley Career Technology Center (MVCTC) SkillsUSA students and advisors attended the annual Ohio SkillsUSA Fall Leadership Conference on November 14-15, in Columbus. SkillsUSA Ohio describes the event online as, "the premier professional development opportunity for High School SkillsUSA students and advisors. This conference is open to all students, advisors and administrators with SkillsUSA members enrolled or are that are interested in getting students enrolled in SkillsUSA. Fall Leadership Conference is divided into three tracks, one for local officers (potential school officers), one for regional officer candidates and one for voting delegates."
MVCTC was represented by 39 students and four advisors. While in Columbus, they participated in voting and campaigning for regional officer positions. Local MVCTC officers attended workshops and sessions about leadership, public relations, professional development, and so much more. MVCTC sent seven officer candidates and seven voting delegates. The students campaigned, gave speeches, and answered impromptu questions. MVCTC came home with three students elected as a SkillsUSA Southwest Regional Officers. Lauren Adams (Graphic Commercial Art/Twin Valley South), Calista Grimes (Graphic Commercial Art/Carlisle), and Hana Witters (Graphic Commercial Art/Northmont) will all represent MVCTC and Southwest Ohio SkillsUSA as 2019-2020 Officers.
SkillsUSA Ohio's mission is to empower its members to become world-class workers, leaders and responsible American citizens.​ SkillsUSA improves the quality of America's skilled workforce through a structured program of citizenship, leadership, employability, technical and professional skills training.
Submitted photo: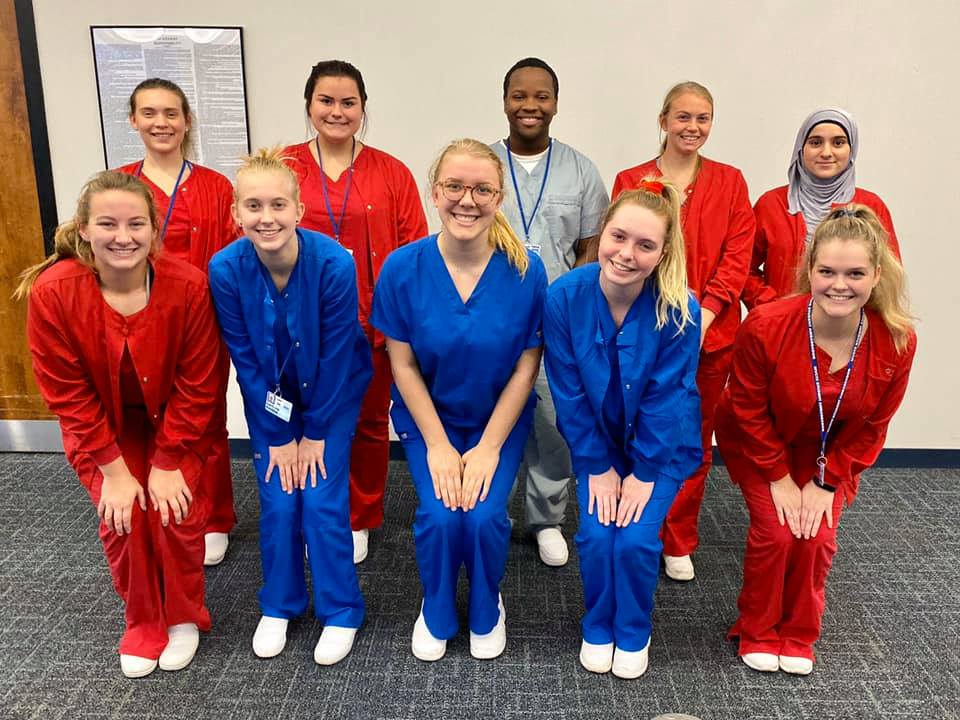 dental students
MVCTC Dental Assisting Seniors, Including One of Carlisle's Own, Earn Certified Ohio Dental Assistant Credential
Ten students receive industry certification and are ready to work while still in high school!
Englewood, Ohio – The Miami Valley Career Technology Center (MVCTC) is very proud to announce that 10 Dental Assisting seniors have successfully passed their Certified Ohio Dental Assistant (CODA) test.
The students have prepared for the past year to take the test, and all the preparation paid off with them passing all three portions of the 11-hour exam. Carlisle's own Amanda Duffy was one of those students!
During the Dental Assisting students' junior year, they learned about dental history, dental anatomy, dental terminology, dental materials, and infection control. Students also become CPR and First Aid certified through the American Heart Association. During the students' senior year they prepare for their Certified Ohio Dental Assistant (CODA) test. When students pass this CODA examination they become certified to assist and will earn an Ohio Dental Radiographers license. The Dental Assistant program participates in Advanced Placement that allows students to be employed by a local dentist office during the second semester of their senior year.
This program prepares students for careers as dental assistants in general dental offices and specialty dental offices. This program is the stepping stone to furthering the students' career ambitions in the dental field. Many students graduate and go on to receive their associate's degree in dental hygiene, become an EFDA (Expanded Functions Dental Assistant), office manager, a dentist, or a dental specialist.
Data collected from the graduating Class of 2018 shows that alumni from the Dental Assisting program at MVCTC furthered their education after high school at Bowling Green State University, East Tennessee State University, Franciscan University, Miami University, Sinclair Community College, The Ohio State University, and the University of Dayton. The Dental Assisting Class of 2018 alone earned over $414,000 in college scholarships. Based on data from Ohio Means Jobs, Dental Assistants are an in-demand career in the State of Ohio.
Dedicated to providing premier educational choices and advanced employment preparation for youth, adults, and organizations, MVCTC has proudly served the Miami Valley since 1971.
Submitted photo: Amanda Duffy is pictured on the far left of the front row.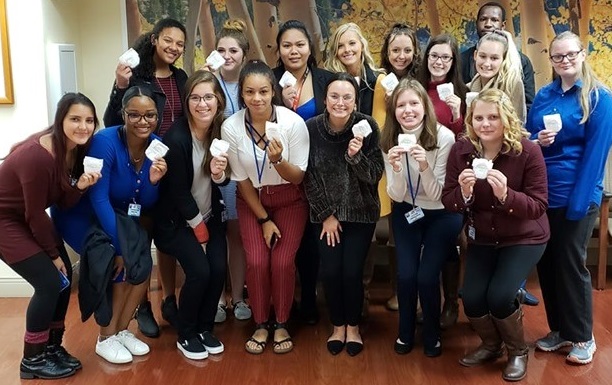 pre-nursing students
Carlisle MVCTC Senior Pre-Nursing Student Spends Day in NICU
MVCTC Senior Pre-Nursing Students Study Nutrition and Human Growth
Englewood, Ohio – Miami Valley Career Technology Center (MVCTC) Pre-Nursing Seniors spent the first quarter learning about Nutrition and Human Growth Development. Students are required to complete a research project that involves writing a research paper on a health topic of their choice, developing a presentation (tri-fold and PowerPoint), and create a children's book using the research topic. Students then applied this learning with a trip to Miami Valley Hospital NICU - including Carlisle Senior Marissa Thigpen - and spent a day working with the Early Childhood students at MVCTC.
Since 1971 MVCTC has been providing career technical education for 27 partner school districts encompassing five counties in Southwest Ohio. MVCTC, dedicated to providing in-demand workforce training for youth, adults, and organizations in the Miami Valley.
Shown in the picture is MVCTC Pre-Nursing Seniors who visited the NICU. Marissa is pictured on the far left of the second row.