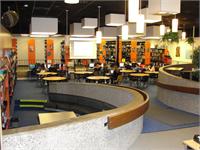 The Media Center occupies about 4700 square feet of Carlisle High School. It began as a full-service student library complex when the building was constructed in the 1970s, and has now transitioned to a nearly all-digital resource center, featuring more than 50 student computer workstations.
Additionally, The Media Center is home to a TV production facility, also original to the building. The production facility consists of a TV studio, editing suite, and audio/visual storage room. In addition to providing a media production space for student projects, the facility also contains distribution equipment that allows for the composition and programming of all content for broadcast on the The Carlisle Channel (local access channel 15 on Spectrum TV). The facility also houses a vast video archive of most school programs dating back to 1988.
If you would like to submit a message for publication on The Carlisle Channel, or request a DVD copy of an archived school program, please contact Quentin Hammock, A.V. Coordinator, by Email or phone at 937-746-4481 ext. 465.