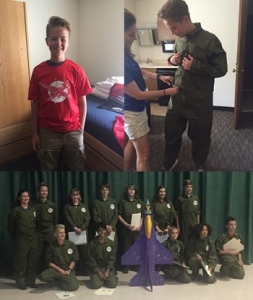 Max Allison, an 8th grader at Chamberlain, was one of only 136 middle school students nationwide to be selected to attend one of Air Camp's three summer sessions in the Dayton region, hosted by Wright State University. Max was the only representative this year from Carlisle.
Air Camp, a week-long residential camp, is sponsored by the Callahan Family of Carlisle.
The camp inspires middle school students to develop a passion for the STEM fields by exploring these subjects (science, technology, engineering, math) as they apply to aviation and aeronautics. Students learn the science and evolution of flight, take control during an actual flight under the guidance of a certified flight instructor, and collaborate with their peers in immersive activities at unique aviation sites throughout the Dayton area.
A graduation ceremony was conducted on the last day of camp in late June, with parents, family members and distinguished guests in attendance.