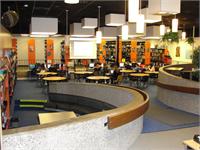 A form for publishing your message on the Carlisle Governmental Educational Access Channel 20 (Time-Warner Cable) is available in each office, media center and the Carlisle superintendent's office. Please read the instructions on the form and release guidelines on the back. Forward the form to the attention of Tom Kishpaugh, Media Specialist at Carlisle High School.
If your message is brief or urgent, please call 746-4481 ext. 407 and we will take your request over the phone. Also, please indicate when your message should be taken off the channel.
The Library-Media Center occupies about 4700 square feet of Carlisle High School. It is a full-service library complex which includes student library, teacher workroom, A-V room, district computer room and TV production facility. The library collection contains over 6,147 books, atlases and dictionaries, 352 videos ans 40 DVD titles. There are 32 high-speed student computer workstations and 1 administrative computer which is hooked up to a large video projection system for instructional purposes. The library collection and circulation are fully automated allowing for easy student access to the collection and administrative control of inventory and cataloging.
The A-V room contains video distribution equipment for broadcasting school programs over the Carlisle Access Channel on Time-Warner cable. It also houses the district computers, routers and switches to other district buildings.
All audio-visual equipment and videotapes are stored in this room. We have most school programs dating back to 1988 archived to videotape or DVD.
The TV studio contains production equipment including color digital cameras, switchers, audio mixers, monitors and Apple editing equipment used to produce school programs. Students can have access to 7 digital video cameras and 3 newer Apple editing computers.